UPDATE 03/30/2023, 1:10 P.M.
Nueces County ESD #1 Fire Chief Michael Clack has reported that there is still a smell in the area around where the leak was detected but there is no threat to the public.
UPDATE 03/27/2023, 8:45 P.M.
Jim DeVisser, battalion chief with the Corpus Christi Fire Department (CCFD) said the shelter in place was a precaution until the leak could be found.
"Took a while to narrow it down because it didn't match any of the pipelines or anything like that, that we noticed in the area," he said.
CCFD found the general area where it was coming from and were able to open roads and lift the shelter in place just before 4 p.m. The leak was somewhere about 200 to 300 yards behind a business located next to Highway 69 and between County Road 52 and County Road 48.
Owner of the business said he had to shut down operations for the day because they do a lot of welding.
The Texas Railroad Commission was then called into help.
"They have access to a lot of the maps and things from years ago that they could help find a lot of old, old wells and maybe decommissioned pipelines," he said.
Once they identify the specific leak, they have to figure out whose property it actually is.
"A lot of these old wells, old pipelines were before they were regulated," he said. "And so, if they went bankrupt, or if they stopped working on it, or capped it, or partially capped it there maybe no responsible person anymore that you can actually pin it down to exactly that person and that business. And, in that case the state does it's job and steps in. Then they start the process of remediating the situation."
DeVisser added that it will take some time to figure out what caused the leak in the first place.
Residents may still smell the natural gas if the wind blows in their direction, but DeVisser said there is no danger, just avoid that area or stay inside.
Additionally, what you may smell is the ingredient Mercaptan added to natural gas. It's what causes you to smell natural gas because it is odorless and colorless.
UPDATE 03/27/2023, 4:03 P.M.
Officials have lifted the shelter-in-place warning for the areas between CR-52 to CR-1889 and CR-48 to CR-52 in the Calallen area.
Local Emergency Planning Committees confirmed the shelter-in-place warning has been reversed.
The Corpus Christi Fire Department lifted the shelter-in-place warning at approximately 3:55 p.m. Work crews will continue monitoring the identified area between CR 52 and CR 48 along HWY 69.
Officials said the Railroad Commission will step in to determine what company is responsible for the pipeline leak.
ORIGINAL 03/27/20123, 3:13 P.M.
A shelter-in-place has been issued by the Nueces County Office of Emergency Management (EOC) for the areas between CR-52 to CR-1889 and CR-48 to CR-52. A Hazmat team has been trying to locate a gas leak in the area. The team is testing samples to determine where the pipeline was damaged.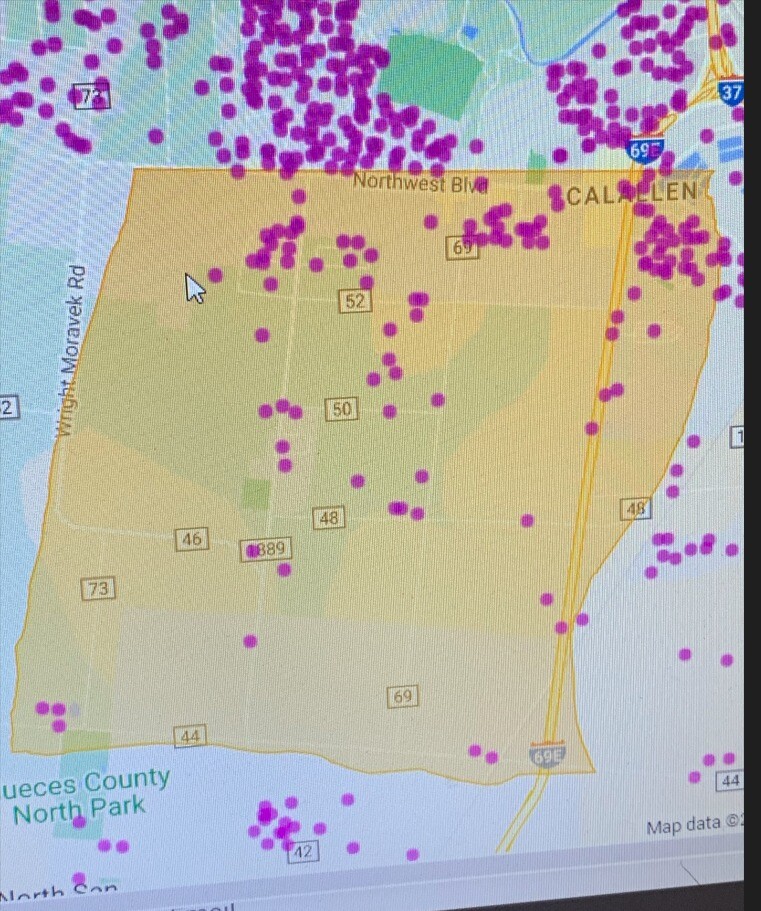 At 12:15 p.m. Fire Chief Michael Clack of Nueces County ESD #1 was notified of the leak. At 12:30 p.m., the Hazmat team was called in.
Citizens are urged to stay clear of the area. The shelter-in-place could potentially grow or shrink as more information comes out. Nueces County EOC and the City of Corpus Christi EOC are monitoring this situation at this time.
For the latest local news updatesclick here, or download the KRIS 6 News App.