Corpus Christi police have arrested a man in connection to a fatal stabbing that left a 42-year-old George West woman dead.
Police say 21-year-old Joseph Perez fatally stabbed the woman in the 200 block of Port Avenue, close to Rose Hill Memorial Park last week. Her body was discovered Friday morning by a passer-by.
Perez was identified by detectives and was located Sunday night on Elesa and Mary Street.
His bond was set at $1 million.
The medical examiner's office has identified the victim as Tanya Garza Brown. She died of multiple sharp force injuries to the trunk of her body.
ORIGINAL STORY:
A woman is dead this morning after police say she was stabbed multiple times.
The incident happened around 2:30 a.m. Friday near the intersection of Port Avenue and N. Bluntzer Street.
Police said a 40-year-old woman was found laying on the side of the road with multiple stab wounds. She was taken to the hospital where she died from her injuries.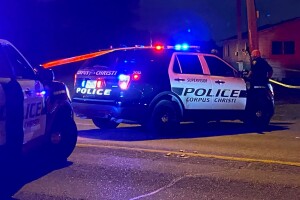 Investigators said they are looking into what led up to the incident.
Travis Pace, with the Corpus Christi police department, said, "We do have some witnesses that we are going to talk too to see if we can put this tragic event together so we can get the individual in custody."
No arrests have been made in connection to this homicide.
CCPD have posted a video to their CCPD Blotter, showing what they believe to be the suspect in this investigation.
If you have any information on who this person might be, you are encouraged to contact Crime Stoppers at 888-TIPS(8477)